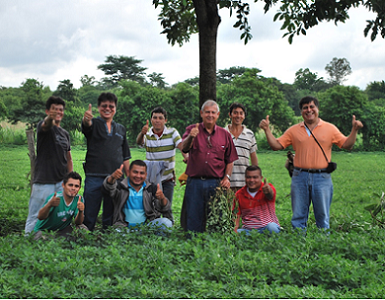 July 2, the 2016 International Day of Cooperatives, is a day to celebrate the thousands of member-owned and member-run cooperative enterprises which collectively help realize the economic aspirations of more than 250 million people worldwide. At Global Partnerships we are firm believers in the cooperative movement, particularly how they are able to help the lives of smallholder farmers like Orlando Quiros in Nicaragua. Many smallholder farmers are isolated by geography and disadvantaged by the small scale of their yields. By uniting hundreds or thousands of fellow farmers, cooperatives not only provide farmers with economies of scale to get better pricing for their crops such as coffee, cocoa or sesame but also help strength the social and human capital of their member communities.Over the last three years through our Smallholder Farmer Services investment initiative we have invested in ten trade cooperatives in Central and South America. These cooperatives have provided roughly 70,000 farmers and their family members with increased economic opportunities due to access to markets and higher prices via purchase contracts with price premiums as well as crop-focused technical assistance to boost yields. These investments have also led to 33,000 hectares of sustainably managed land. Meaning our investments have both led to social and environmental impacts on the communities we are investing.

While most of our cooperative partners have focused on the coffee trade, some have not. One such cooperative is the Cooperative of Organic and Traditional Farmers and Exporters of Nicaragua (COPROEXNIC) where Orlando is a member. COPROEXNIC is the largest exporter of processed sesame in Nicaragua – both organic and conventional. It is also a large producer of organic peanuts for export. COPROEXNIC serves more than 3,000 growers in 13 different communities throughout western Nicaragua. (COPROEXNIC was created by the Center for Development in Central America.)

COPROEXNIC provide Orlando and other members with access to better prices for their crops via contracts with organizations like Once Again Nut Butter, a premium organic manufacturer of peanut and other butters based in the United States. They also provide their farmers with a guaranteed ~30% of final sales contract price which means more of that premium is going to the farmers and their family's pocket. In addition, they provide their farmers with access to needed mechanization inputs for peanut farming (tractors, etc.) and provide agronomic technical assistance.

We are proud to be supporting cooperatives like COPROEXNIC which are helping to improve the lives of Orlando and his family. We look forward to continued growth and impact through our work with cooperatives moving forward.