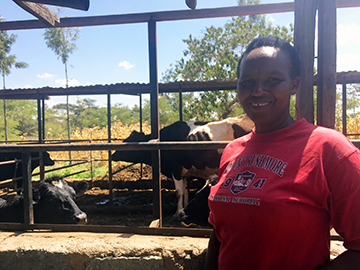 Teresia Wacuka's family farm sits on the plains, before the ascent into the central highlands of Kenya. Modest in size but well managed, her farm supports eight cows, a chicken coop, and a field of subsistence crops. While Teresia speaks proudly of her contributions to the increased productivity on the farm, her focus is on what that productivity has meant for her family.
Teresia's story begins much like other women born into rural poverty. She attended school until her parents could no longer afford the fees. With a primary education and a strong work ethic, she married, started a family and worked the farm with her husband. Despite all of her efforts, providing for her family was difficult and the prospect for a brighter future felt dim. That is until 2007 when Teresia and a group of women came together to form a village bank they called "Tia Wira," meaning "respect for our work".
They spent eight weeks in training with a loan officer from Kenya Women Microfinance Bank (KWFT). This group of women began to save money while developing basic financial literacy and credit management skills. At the culmination of the eight weeks, each woman took out a $100 loan.
Backed with a solidarity guarantee from the other women in the group, Teresia invested her first loan in the farm. After successfully paying back that loan, she took out a second loan to build a pit latrine, then a third to finance a water tank. Over the years Teresia has financed the family poultry business and their eight cows.
While Teresia refers to her husband as a partner in these endeavors, she is at the center of the decision making. This is especially evident when she speaks about the school fee loans she has borrowed to send her children to school. Teresia has opened a savings account in her daughter's name and tells her to study hard so that she can one day become a loan officer at KWFT.
Teresia's story, and so many others like hers, remind us of the power of investing in women. Not only are women disproportionately affected by poverty, they carry the multifaceted burdens associated with poverty in ways that are distinct from men. Across the globe women are more likely to be uneducated and operating in the informal economy; without access to a bank account or basic ownership rights. Amidst this adversity, they carry the burdens of tending to disease and time poverty – often spending hours a day collecting water or fuel for cooking, both of which are harmful to their health and that of their children.
But the evidence is clear: investing in women is an opportunity, not a constraint. Like Teresia, when given access to resources and information, women across the globe:
Transform educational opportunities into impact;
Use resources and assets to increase productivity; and
Invest more in the health and well-being of their families.
At Global Partnerships we believe that investing in women and the organizations that support them has the capacity to solve some of the world's biggest problems. We believe that empowering women can improve their lives as well as those around them. In turn we proudly partner with organizations like KWFT and their clients, who like Teresia are boldly and decisively breaking the cycle of poverty.