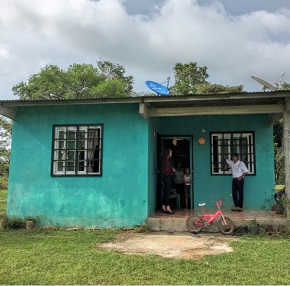 In February, Global Partnerships made a $500,000 impact investment in Procaja, a microfinance organization working in rural Panama, to support Procaja's home improvement loan portfolio. This was not only GP's first investment in a partner in Panama, but also our first loan in a new investment initiative: Home Improvement Finance (HIF). This was all the result of a year's worth of research coming to fruition.
I had the opportunity to participate in the development of this initiative and meet Procaja and their clients. During our visit, we met people like Jocelyna Rodriguez Villar, her husband Demetrio, and their two children, Krystal and Deusalino (pictured above). Jocelyna and her husband have used three incremental home improvement loans from Procaja. The first loan was $500 to replace their dirt floor with a cement floor. The second was $500 to add a tin roof replacing one made from palm leaves. The third was $500 to add security grills to their front door and windows, as they had recently been robbed while Demetrio was working.
The combination of all these loans allowed the Rodriguez Villar family to begin to replace a traditional hut home with a new, more secure home. For them, household health, security and sense of well-being have increased due to: (i) lower exposure to bad weather (roofs, walls and floors) and sources of disease (sanitation and water), (ii) physical protection from robbers or unwanted intruders, and (iii) improved confidence and sense of self-worth in the community.
In addition to insights from client visits like the one with the Rodriguez Villar family, there were three key factors that tipped our thinking in favor of launching HIF as a GP investment initiative:
A large and growing problem: According to UN-Habitat, about one in four people live in conditions that harm their health, safety and prosperity. A McKinsey Global Institute report suggests that the global population who live in substandard housing units will expand to 1.6 billion people by 2025. This is an ongoing challenge facing households living in poverty, particularly in the regions where we work.
Focused on households living in poverty: Unlike affordable housing, home improvements provided via microfinance organizations can be financed incrementally with loans, and thus reach a wider and lower income demographic.
High-impact support services: In addition to tailored financing, we found that many microfinance organizations are also providing project budgeting and work planning, best practice construction education, as well as, on some occasions, assistance negotiating discounts on construction materials. This is consistent with our practice of investing in organizations that offer value-added services alongside access to credit that empower people to make the most of those loans.
A year ago, we set out to explore HIF as a potential initiative. Today, our investment in Procaja marks the first HIF partnership, as we now build an investment portfolio in this important and high-impact area of need. We are excited to share with you our expanding portfolio of initiatives as we continue to find more impactful and sustainable ways to address poverty.
Today, Jocelyna and her family feel safer, and they were full of pride as they showed me their home and the specific improvements they have added over the last two years.
As a parent, I know how important it is to provide a safe and secure home for the ones we love. I am proud GP is able to play a role in improving the health, security and sense of well-being of households like the Rodriguez Villar's.
Your support allows us to create initiatives like this, ensuring that we make impact-led investments in the most meaningful solutions for households living in poverty.