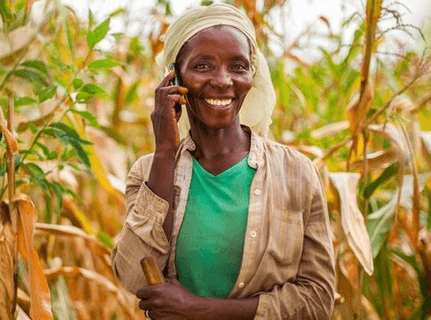 THE CHALLENGE
Individuals living in poverty, particularly in rural areas, often have limited access to information that can help them build knowledge and improve their agricultural and financial planning practices.
THE OPPORTUNITY
GP funds aim to improve the economic position of households living in poverty by investing in partners who provide affordable, mobile-based education on best practices in financial planning and/or agriculture.
WHO IS SERVED?
The target demographic is adults (ages 15+) living on less than $5.50 PPP/person/day with access to a mobile phone.
WHAT IS DELIVERED?
Clients must receive: Affordable mobile-based education and/or information services designed to achieve positive behavior change in savings or agriculture.
May also receive: Linkages to relevant products, such as savings accounts or agricultural inputs.
WHY IS IT IMPACTFUL?
Household economics improve as clients:
Build knowledge
Make more informed decisions
Adopt better practices in financial management and/or agriculture
Increase savings and/or increase income from agriculture activities, due to increased yields and/or increased sale price of agricultural products