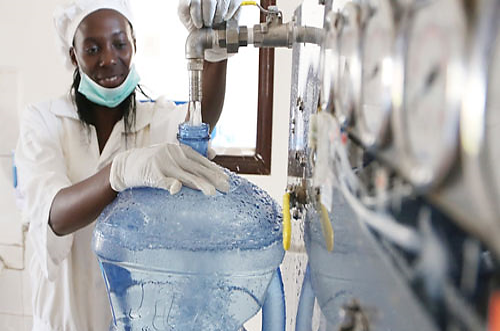 THE CHALLENGE
Roughly 2 billion people worldwide rely on a contaminated water source, 844 million lack a basic water source, and roughly 1 million people die from a lack of clean water access each year.
THE OPPORTUNITY
Global Partnerships (GP) invests in safe water enterprises that provide new or improved access to clear water for the households we serve.
WHO IS SERVED?
Households mostly living on less than $5.50 PPP/person/day, some living on less than $3.20 PPP/person/day, in urban and peri-urban communities without a reliable, nearby, clean, and/or affordable water source.
WHAT IS DELIVERED?
Households receive affordable clean water from reliable, and safely managed water sources.
Households may also receive training in safe water transport & storage, and sanitation & hygiene practices.
WHY IS IT IMPACTFUL?
Access to clean water for drinking and hygiene improves household health, productivity, and quality of life as a result of:
Health: Lower disease incidence and child & adult mortality through reduced exposure to water borne disease and contaminated water
Productivity and educational attainment:

Less time lost from school & work due to sickness or caring for sick family members
Less time spent collecting and/or boiling water

Quality of life: Reduced emotional stress, improved sense of self worth
May also reduce greenhouse gas emissions replacing boiled water
HOW IS IT SUSTAINED?
Margin on B2C sales, franchises, and/or partnerships with authorized distributors