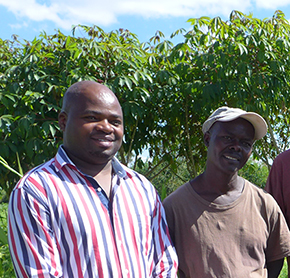 According to the GIIN 2015 report, The Landscape for Impact Investing in East Africa, East Africa is one of the centers of global impact investing. Activity has grown strongly throughout the region over the past five years during which $9.3 billion was disbursed by more than one thousand direct investments by development finance institutions (DFIs) and other impact investors active in the region. The report also stated that within East Africa, Kenya and its capital city Nairobi are the regional hub of impact investing in East Africa where at least 48 impact fund managers have staff placed.
Just over one year ago, Global Partnerships expanded into Africa with the opening of our office in Nairobi to initially invest in four East African countries: Kenya, Uganda, Tanzania and Rwanda. GP's entry into Africa is at an opportune time with a rise of innovative solutions in the region – especially in clean energy, agriculture, and financial inclusion – which are aligned with GP's mission.
GP expanded to Africa not only because investment and innovation in the region are growing, but most importantly because poverty has persisted for generations here, and markets must be pushed to empower people in a sustainable way. GP chose to focus its entry in sub-Saharan Africa for a variety of reasons.
For example, according to the Africa Energy Outlook Report published by the International Energy Agency (IEA) in 2014, sub-Saharan Africa had more people living without access to electricity than any other region in the world – more than 620 million people – which is more than the global total. In East Africa alone, more than 200 million people live without electricity – around 80% of its population.
Also, financial exclusion for people living in poverty continues to be a major hindrance to poverty alleviation, as well as limited access to healthcare, clean water, proper sanitation, education and decent housing among others. Agriculture continues to be the main source of livelihood for the majority of rural communities in sub-Saharan Africa where smallholder farmers depend on crop farming and animal husbandry. GP's mission to improve the lives of people living in poverty through our Investment Initiatives is well placed to impact millions of people in sub-Saharan Africa, beginning with the four East African countries.
In the past year GP has made solid progress both in making our first investments as well as research aimed at expanding GP's Investment Initiatives. We have made three investments, one to a women-centered MFI, the second to a distributor of solar lights and the third to a rural-centered MFI that focuses on financing smallholder farmers. Our primary research done during this first year also yielded three investment initiatives: Smallholder Finance Services (SHFS), Rural-Centered Finance with Education (RCFE), and Women-Centered Finance with Education (WCFE).
As the person leading GP's social investment lending in Africa, I am greatly inspired by the opportunity we have to impact millions of people living in poverty. In my former career as a commercial banker, the objective was maximization of shareholder value. Now, as an impact first investor, GP is 100% focused on the household impact and on empowering people in a sustainable way. For me, the satisfaction of participating in such transformation is incredibly rewarding.
On a personal note, as someone who grew up in a family of farmers in rural Kitale in the North Rift region of Kenya, I am proud to be a part of a team enabling innovative change by providing much needed capital to social entrepreneurs in my home country and neighboring regions. This kind of impact changes lives and future generations. As an example, parents living in poverty can increase their income, giving them the opportunity to pay for their children's education.
We look forward to sharing with you the impact our partners are having in Africa in the years to come.