Banco D-MIRO (D-MIRO) is a regulated financial institution that is owned and operated by the Norwegian Mission Alliance. It is dedicated to increasing financial inclusion and improving the quality of life for poor and marginalized populations in Ecuador. To accomplish its mission, D-MIRO provides credit and savings products coupled with complementary services in the key areas of education, health and work. To ensure both scale and sustainability, the bank offers these services through strategic alliances with institutions that specialize in a particular service.
D-MIRO's largest scale initiative entails access to essential health services through a pre-negotiated insurance package. In order to address prevention and increase utilization rates, D-MIRO is working with a local health NGO to design a training program that will consist of health fairs that are offered free of charge to both clients and the community.
Visit Website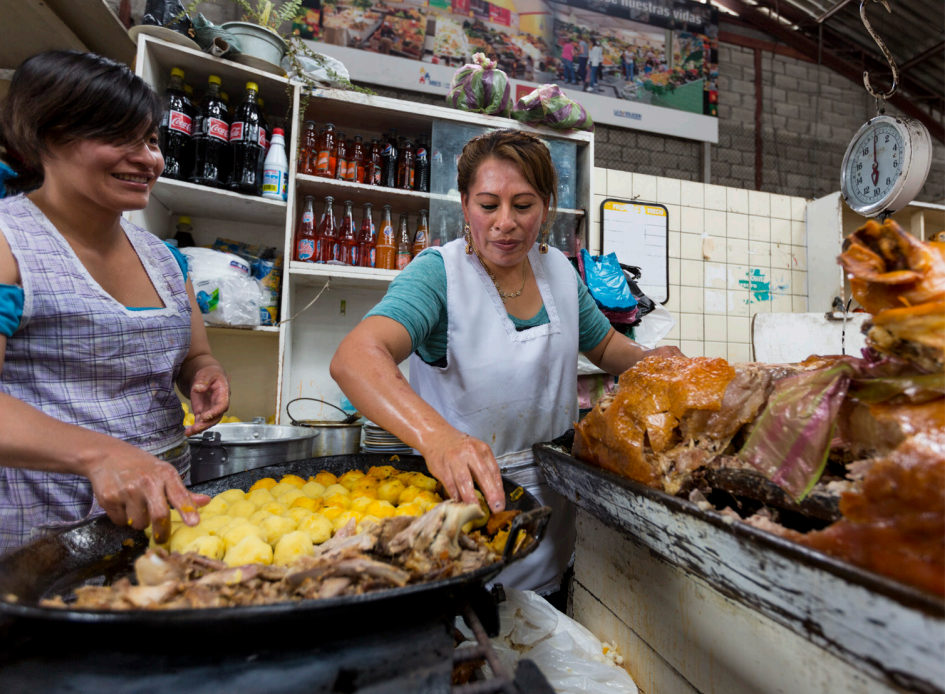 ESPOIR is a microfinance institution (MFI) that provides microenterprise credit coupled with health and education services to under-served populations throughout Ecuador. The organization's target demographic is principally female entrepreneurs, served via the village bank methodology. In addition to preventive health education and basic business education, ESPOIR provides access to consultations and diagnostic exams via preventive health campaigns and a clinic located at its Cuenca branch.
Visit Website
Fundación Faces is a nonprofit microfinance institution (MFI) that is dedicated to reducing poverty and unemployment for poor and marginalized populations in Ecuador, a country where current regulations provide a disincentive to remain focused on the low end of the market. Fundación Faces attends to this population principally through individual credit and, to a lesser extent, group loans, which provide poorer women with access.
While many MFIs in Ecuador have recently begun to consider non-financial service provision, Fundación Faces has been providing integrated health and microentrepreneurship education services since its founding in 1991. Furthermore the organization has demonstrated an ongoing commitment to adapting those services in order to meet the ever changing needs of their target clientele.
For example in 2011 the government opened a medical center in the city of Loja, where over half of Fundación Faces' clients live, and where the MFI had been operating a clinic. Realizing that their medical services were no longer needed, but maintaining their commitment to using the microfinance channel to address the health needs of their target clientele, Fundación Faces decided to close their clinic and focus on preventive education, which is currently not one of the government's focuses.
These education sessions, along with those focused on basic business training are open to both clients and the community at large. By focusing on preventive education, the organization hopes to catalyze behavior change, increase the utilization rates of government services, and promote early detection. Finally the organization is implementing a new health insurance package in order to provide affordable access to specialized services.
Visit Website
FODEMI is a nonprofit microfinance institution (MFI) in Ecuador that provides microcredit coupled with basic education including financial literacy, budgeting, and women's empowerment. The organization provides small, affordable working capital loans to microentrepreneurs living in both semi-urban and rural areas. The organization targets predominantly women living below the national poverty line that have been historically excluded from traditional financial markets. FODEMI is able to reach these women through its group lending methodology which promotes solidarity, discourages delinquency and eliminates the need for borrowers to own collateral.
In order to provide clients with the tools they need to ensure their long term financial stability, FODEMI requires clients entering their second loan cycle to participate in specially designed education courses.
These courses consist of four hour workshops that are taught by education specialists who cater the curriculum to meet the particular needs of participants. Material that is covered in the workshop is then reinforced by trained credit officers during monthly group payment meetings, where repetition and follow-up can promote retained learning.
Visit Website