Avanza Sólido works primarily with women entrepreneurs in the relatively poor state of Chiapas, Mexico. The microfinance institution (MFI) provides working capital loans primarily through group lending (solidarity groups), with an individual lending product designed to help group lending clients graduate to larger loan sizes according to their microenterprise needs. In addition, Avanza provides in-depth financial and business education workshops in the communities it serves, reaching both clients and non-client community members. Avanza is also aligned in terms of health services, as the MFI offers clients free medical consults through annual health brigades in which doctors attend to the unique medical needs of each client.
Cesmach is a first tier, fair trade cooperative located in the southern highlands of Chiapas, Mexico where biodiversity is at risk and over 70 percent of the population lives below the national poverty line. For thousands of small farmers living in the region, coffee is the principal agricultural activity and the only source of income. In turn Cesmach looks to improve the living conditions of member producers while caring for the environment.  It does so by providing tailored credit and crop-focused technical assistance coupled with certification support, commercialization services and access to specialty markets.
As a member-owned cooperative Cesmach brings together individual producers and increases their access to fair trade and organic markets by providing training that helps farmers increase crop quality and maintain certification standards. In addition to technical assistance, Cesmach's members have access to the cooperative's cupping laboratory, processing mill, and storage facility. These commercialization services, coupled with contract negotiation, help producers obtain better prices for their coffee. In addition to highly integrated rural livelihoods services, Cesmach promotes the well being of members and their families who often lack access to health information and services. For the past five years Cesmach has worked alongside two other cooperatives and Grounds for Health to implement an innovative cervical cancer detection program that trains community "health promoters" to educate their neighbors and promote screening for early detection.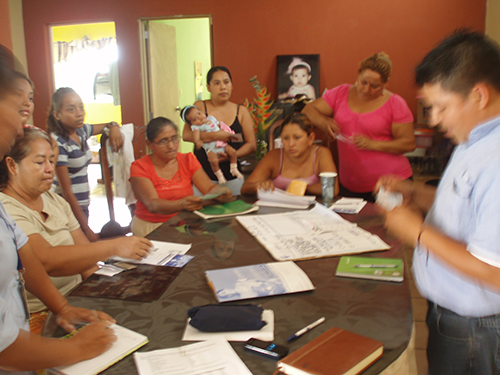 Conserva is a nonprofit microfinance institution (MFI) in Mexico that is committed to providing microentrepreneurs living in poverty with access to small working capital loans alongside basic health services. With a small average loan size and a group lending methodology, Conserva targets predominantly women living in rural, urban, and peri-urban areas.
Conserva's health service offerings address three health conditions that are prevalent in their regions of operation: cervical cancer, breast cancer and vision impairment. By negotiating innovative alliances with third party health providers, Conserva is able to offer its clients deeply discounted rates on cervical and breast cancer screening as well as free optical exams and access to affordable eye glasses. If further care is required Conserva offers accompaniment, either referring eligible clients to government service providers or helping pay for private treatment.
Visit Website
Equipate is a microfinance institution working in several states in central Mexico. As a partner in GP's Women-Centered Finance with Education initiative, Equipate mainly serves female microentrepreneurs, predominantly through group lending. The MFI also offers individual working capital loans and home improvement credit.
Itaca Capital (Itaca) is aligned with GP's goal of deepening inclusion, as it serves more than 80% female clients.
The MFI leverages the village bank to deliver high impact products and services including working capital loans and sessions on financial and business education to all of their group-lending clients. In addition, Itaca offers optional workshops on more advanced financial education topics, as well as workshops designed for village bank leaders to improve their administrative and leadership skills for the benefit of all village bank clients. A partnership with Itaca presents GP with an opportunity to help the MFI begin to collect poverty data.
Pro Mujer is a development and microfinance institution (MFI) that is dedicated to providing Latin America's low income women with the means to build their own livelihoods through the provision of microfinance, business training, and health services. Pro Mujer has several branches throughout the region; Global Partnerships is currently partners with Pro Mujer branches in Bolivia, Mexico, Nicaragua and Peru.
Pro Mujer provides credit to its clients primarily through group-based, village bank loans, which promote solidarity, discourage delinquency and eliminate the need for borrowers to have collateral.
Pro Mujer has been a pioneer in leveraging the existing microfinance channel to deliver its nonfinancial services. For example, Pro Mujer capitalizes on cross-trained credit officers to deliver preventive health education during village bank meetings, thereby reaching more people while keeping costs low.  Pro Mujer's health services include health education, basic screening for chronic disease and access to primary healthcare consults. Topics covered during education sessions include breast and cervical cancer, diabetes, hypertension and depression. Screening services provided cover conditions such as diabetes and high blood pressure.
Notably, Pro Mujer in Nicaragua (PMN) is part of GP's Health Services Fund, a technical assistance and grant-based fund that invests in the design, start-up and scale-up of market-sustained health services delivered by MFIs and cooperatives. Working together, GP and PMN have designed an integrated health services model, whose early success has influenced the strategic direction of Pro Mujer's health services program throughout its network.
Visit Website
Reina Madre serves patients living on <$5.50/day/PPP with affordable health care in the urban and peri-urban areas in greater Mexico City. Reina Madre provides high quality, affordable care across the critical maternal and newborn services of prenatal visits, labs, ultrasounds, delivery by a skilled birth attendant, postnatal maternal and newborn support, and access to emergency services as needed. Reina Madre is filling a critical market gap between high-end private clinics targeting the top 10% of the population, and the public alternatives that are often under-resourced and lacking in terms of quality of service. Reina Madre's focus is on low-risk pregnancies, with channels to refer higher-risk pregnancies to better equipped hospitals. In addition to providing the pregnancy and postnatal services, Reina Madre also provides family planning and women's health screening and services.
SOFIPA is a Mexican MFI that provides microfinance loans and basic financial literacy training through the group lending platorm. SOFIPA, headquartered in Oaxaca, operates in Mexico's poorest states and its members are aligned with GP's target demographic of primarily women living in rural and peri-urban areas. Members receiving credit receive basic financial literacy training prior to each disbursement.
VisionFund Mexico is a microfinance organization that works principally in rural and semi-urban areas, making village bank and solidarity group loans to poor women and agricultural producers. Operating in Mexico, where both interest rates and client over indebtedness are high, the MFI has distinguished itself through sub-market interest rates and more recently an integrated approach. The organization takes advantage of village banks' monthly payment meetings to administer the curriculum, which is based on the Freedom from Hunger methodology. Topics include debt management, savings, and budgeting. In addition to basic financial literacy, the MFI offers more advanced training in microenterprise business that targets prospective clients. Finally as part of its on-going innovation efforts, VisionFund Mexico has  launched technical assistance and commercialization services that help clients strengthen their products and access markets. One such commercialization service is the online store that VisionFund Mexico launched which features artisanal goods made by its clients.
Visit Website